There's a thin semantic line between weird and beautiful. And that line is covered in jellyfish.
WELCOME TO NIGHT VALE MAFIA
A speed game for 19 interns
(Haven't experienced the pure joy and horror that is Welcome to Night Vale? Check out
http://welcometonightvale.com/
for more info and links to the free podcast, available streaming and on iTunes. It's one of my favorite things, ever, and makes long commutes and runs not suck.)
Citizens of Night Vale (12)
Citizens of Night Vale must stick together to overcome the evils that plague their community. Civilians must eliminate both mafia teams to win.
Cecil Palmer
The voice of Night Vale at Night Vale Community Radio. Cecil broadcasts a report through the host each night to be displayed in the thread.
Carlos the Scientist
Perfect. Carlos. Carlos uses an unexplained source of funding to run scientific experiments. He may use this knowledge to lie detect a statement on three occasions.
Old Woman Josie
Old Woman Josie out near the car lot says the angels revealed themselves to her. Each night, she searches for Erika; if found, they gain BTSC.
Erika (AKA the Angels)
Angels may or may not be real. They are all named Erika. Erika searches for Old Woman Josie each night; if found, they gain BTSC.
John Peters
You know, the farmer? A frequent contributor to Night Vale Community Radio, John Peters (you know, the farmer?) sends a message via the host to Cecil each night.
Steve Carlsberg
Ugh. Steve Carlsberg is just about the worst guy there is. Each night, Steve may search a player and learn if (s)he has BTSC. If he targets Cecil, Steve's vote is worth 0 the next day.
Pamela Winchell
The former mayor of Night Vale and current Director of Emergency Press Conferences. Pamela may hold a press conference to remove someone from the lynch poll on three occasions.
Dana Cardinal
A former intern of Night Vale Community Radio, Dana has survived a fight with her own doppelganger and returned from the alternate dimension in the dog park. Dana survives her first kill attempt.
Khoshekh
A cat who hovers in the men's bathroom of the Night Vale Community Radio station, Khoshekh has poisonous kitty spine ridges along his back. Anyone who targets Khoshekh will have +1 vote added on them the next day.
Sheriff of Night Vale
This enigmatic leader of the Sheriff's Secret Police operates in a hovering office above the clouds. The Sheriff uses his secret police force to protect a player on odd nights.
Apache Tracker
A white guy wearing a huge and cartoonishly inaccurate Native American headdress. Can you believe this guy said he used "Indian magics"? What an asshole. The Apache Tracker tracks a player each night.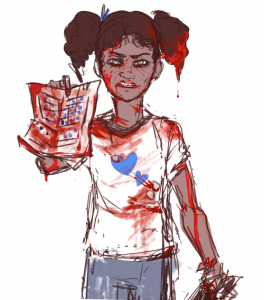 Tamika Flynn
The 13-year-old renowned destroyer of librarians and commander of an army of child soldiers, Tamika has amazing strength of will under duress. Tamika blocks a player on even nights. *Secrets*
StrexCorp (3)
Believe in a smiling god. Must outnumber civilians and eliminate the Politicians. Kills on odd nights. Has BTSC.
Kevin
Kevin is the host of Desert Bluffs Community Radio. He uses his dark, soulless eyes to silence a player each night. *Secrets*
Lauren Mallard
A member of StrexCorp management, Lauren briefly takes over as management of Night Vale Community Radio. She uses her access to community records to role check on 2 occasions *Secrets*
Marcus Vanston
Marcus is Night Vale's wealthiest resident. Some have said he is worth over 5 billion dollars. And have you seen how many cars that guy owns? Wow. Marcus' vote is worth 2.
Politicians (3)
These guys just want to make Night Vale a better place...by any means necessary. Must outnumber the civilians and eliminate StrexCorp. Kills on even nights. Has BTSC.
Glow Cloud
ALL HAIL. The Glow Cloud uses its influence to force a player's vote each Day.
The Faceless Old Woman Who Secretly Lives in Your Home
She's always there, just out of your sight. The Faceless Old Woman insanifies a player each night in the manner of her choosing.
Hiram McDaniels
Literally a five-headed dragon; who cares? *Secrets*
Independent (1)
The Man in the Tan Jacket
Countless residents have seen him, but no one can seem to remember exactly what he looks like - just that he has a tan jacket and a deerskin suitcase, and he has been spotted all over town. *Secrets*